The Johann Gottlob Mäckel Family
(or Maeckel/Moeckel)
Johann Gottlob Mäckel and Christiane Friederike Uhlig emigrated from Lengefeld, Saxony, Germany somewhere 1852 and 1855 with two children, Marie Helene Maeckel and Ernst Edward Maeckel. Gottlob was born Carl Gottlob Mäckel, married Friederike (from Lauterbach) in 1845, and later took his fathers first name of Johann. Friederike died soon after arrive in Texas and Gottlob remarried to Johanna Christiane Martin and had seven more children between 1857 and ending in 1871. During his second marriage his family lived near Frelsburg, Colorado County, Texas and as of the 1860 Agricultural Census owned 81 acres.
This link will take you to a series a web pages generated from my genealogical database. It contains much more than just the Maeckel side of my family and eventually I'm going to be getting around to creating pages like these for other ancestors that emigrated to the United States. The Slaby family history also has a series of pages. A random collection of documents that were scanned in are here.
Lengefeld, Saxony, Germany, Europe

Lengefeld is a small town of 3,200 whose large square market place that forms the core of the town today was built around 1500. The area was called Lengefeld as early as 1369 and is mainly known for its limestone mining operations in the mountains that separate Germany from the Czech Republic. The town is located near the city of Chemnitz (Karl Marx City when it was part of East Germany) in the state of Saxony. The following link will take you to a Wikipedia page with Lengefeld and Gerd Moeckel from Chemnitz sent me some pictures of Lengefeld.
Frelsburg, Colorado County, Texas, USA, North America

Frelsburg was founded in 1837 by Captain William Frels who immigrated to Texas in 1834. He came from Germany on the ship "Congress" and participated in the storming of the Alamo in 1835. Captain Frels donated land for a town site, school, Protestant Church, parsonage and cemetery. The community is located north of the town of Columbus in Colorado County, Texas. Columbus is the county seat and sits on the Colorado River between San Antonio and Houston. The following link will take you to a Wikipedia page with Frelsburg.
Johann David Mäckel and Amelia Drähger Descedants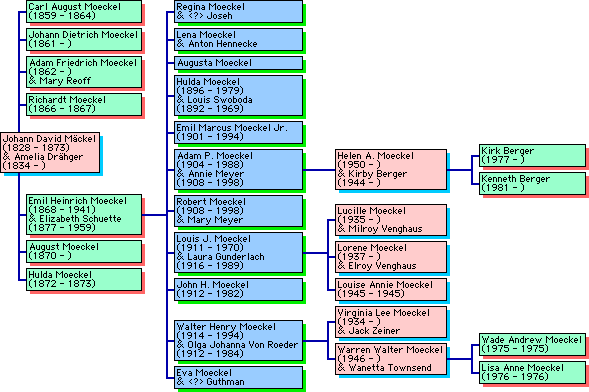 Johann David Mäckel may be closely related to Johann Gottlob Maeckel. They both settled down from Germany in the Frelsburg area and both went to Trinity Lutheran Church. Many of baptismal records have David or Gottlob being a Godparent of the other's children. Note that David's children all use the Moeckel spelling while Gottlob's went with Maeckel.
Carl C. Maeckel Descedants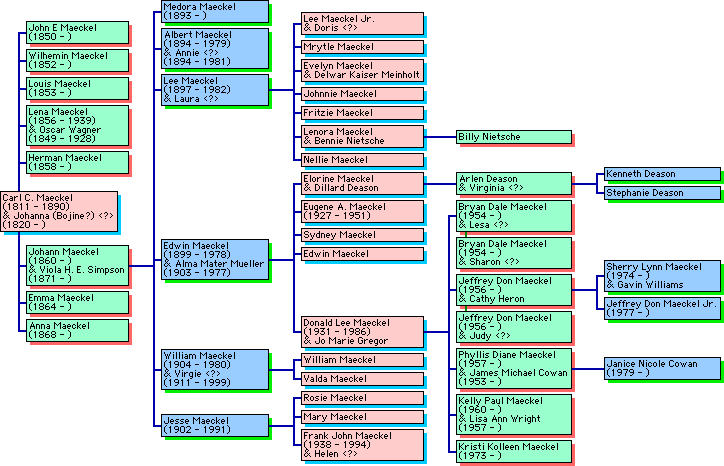 Carl C. Maeckel traveled from Germany on the ship "Lucie" that arrived in Galveston, Texas on November 7, 1854. Carl settled down in Round Top which is one county over and north west of Frelsburg. It is not known how or if he is related to Gottlob or David.

Last updated October 21, 1999